THE CHALLENGE
Industry 4.0 is a paradigm shift for the whole world. Major changes are happening with the merging of artificial intelligence, augmented reality, blockchain, vehicle automation, smart factories and more. With culture and infrastructure that quickly adapt to the most recent technological advances, Korea is at the centre of all. With 221 accelerators and 134 innovation centres (as of February 2020), Korea provides the best support and environment for startups just beginning their journey.
We are looking for talented entrepreneurs in Europe and Africa who are looking to expand their business to the Korean and Asian market in the following verticals: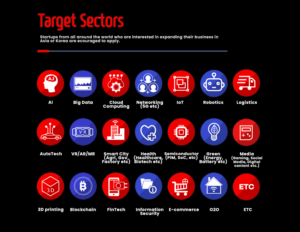 What's in it for you?
3.5-Month Accelerator Program

Office and project space

Corporate Sponsorship and Support

Help Desk and Visa Support

Financial Support
Additional Criteria
Venture must be less than 7 years old

Technology-based startups that have prototype or product/service and at initial investment stage

Must be willing to relocate to Korea for 3.5-Month acceleration program
Check out what some of the past winners have to say about the challenge:
Timeline
June 15, 2021
Deadline Applications

The deadline for applications of proposals is June 15th 2021 at midnight (UTC+2).

July 5 - 9
Global Auditions

Online meetings with Korean stakeholders
July 13th
Final Results Announced

*Due to COVID-19, all foreigners have to go to Korea before August 15 in order to go into quarantine. The quarantine period will be August 15-31.
August 15 - November 30
Acceleration Program

Acceleration program begins with the top 60 teams
Late November
Demo Day

Demo Day top 30 teams will be selected to settle in Korea