Grow your responsible tourism solution with Booking.com
25k grant, expert coaching, access to network
Deadline passed
Booking.com is looking for innovative startups that are passionate about finding creative solutions to the unique opportunities related to responsible tourism in urban areas. 
Founded in 1996 in Amsterdam, Booking.com quickly scaled from a small startup to one of the largest travel e-commerce companies in the world. With a mission to empower people to experience the world, Booking.com invests in digital technology that help take the friction out of travel. At Booking.com, we connect travellers with the world's largest selection of incredible places to stay. Booking.com has now more than 17.000 employees in 198 offices, spread over 70 countries worldwide. 
Booking aims to keep their customer at the centre of everything they do. This means that they strive to keep their destinations happy and healthy so that their customers can experience them for years to come. To make a positive, lasting impression on the global travel industry, Booking.com knows that meaningful change can only come about through strategic and deliberate collaboration throughout the entire ecosystem. Therefore they believe that, by investing their time, energy and passion in the right projects and backing the right people with the right ideas, they can help accelerate discovery and scale solutions to communities and destinations worldwide.
The deadline for this Challenge has passed, please check out our other Challenges
Supported by: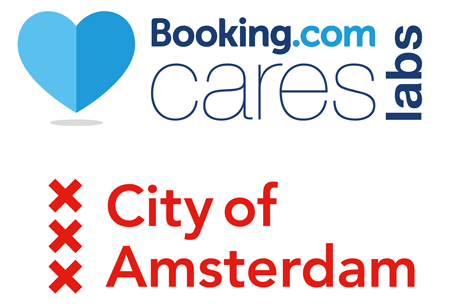 THE CHALLENGE
Booking.com is looking for teams of innovators that are passionate about finding creative solutions to the unique opportunities related to responsible tourism in urban areas. While the destination and focus of this Cares Lab is Amsterdam, they are accepting applications for innovative solutions from all across the EU that can also be applied to Amsterdam. The following topics are of interest:
TOURISM DISPERSAL
Relieving pressure on crowded tourist areas
INCLUSIVE GROWTH
Making sure that everyone in the city benefits from the growing tourism opportunity, including an even more diverse array of local businesses
BEHAVIORAL AWARENESS
Educating travelers about how to act more like a local, including tackling topics related to littering and street pollution, noise control, and waste management, i.e. recycling and sorting, etc.
WHAT'S IN IT FOR YOU
Pitching in front of an expert jury to win grants up to 25k

Potential pilot project with the Municipality of Amsterdam

Expert coaching from your Booking.com mentor

Access to the extensive network of Booking.com
ADDITIONAL CRITERIA
Be a registered entity in Europe
TIMELINE
AUGUST 26TH
APPLICATION DEADLINE

The deadline for applications is August 26th.

SEPTEMBER 3RD-7TH
PHONE INTERVIEWS

Shortlisted startups will be invited for a short phone interview between September 3th and 7nd.

SEPTEMBER 12TH
ANNOUNCEMENT SELECTED STARTUPS

Selected startups will be announced starting from September 12th.

OCTOBER 9TH-11TH
BOOKING.COM CARES LABS

Between 8-10 selected startups will be invited to the HQ of Booking.com for a 3-day innovation Challenge in Amsterdam, the Netherlands. Transportation and accomodation cost are covered.