USA's Aquacycl and UK's Cyanocapture are your global winners!
The Hague
Challenging times call for unconventional solutions
Get in the Ring is a global startup competition active in over 200 cities. We give opportunities to unconventional solutions in all corners of the world, to prove their solutions and solve 21st century challenges. Working alongside industry leading partners, we support the scale and impact that startups make across the globe.

We use the Sustainable Development Goals as a guide to transforming our world using unconventional solutions.
3
Good Health & Well-being
6
Clean Water & Sanitation
7
Affordable & Clean Energy
8
Decent work & Economic Growth
9
Industry, Innovation, and Infrastructure
11
Sustainable Cities & Communities
12
Responsible Consumption & Production
16
Peace, Justice and Strong Institutions

Eye verification startup ZOLOZ (formerly EyeVerify) won the Get in the Ring competition in 2013, got global exposure and was acquired for $100M by Ant Financial two years later.
Provide the solution for our partners' challenges
Solve the challenges of our corporate partners for a chance to prove your solution and access the network you need to scale.
The most global startup competition
Our global startup competition is active in all corners of the world and is your chance to connect with our community of partners. Join the competition and prove to us that you have a promising solution and should be connected to the people who have the power to help you scale. Together we can solve the grand challenges we all face in cities around the world.
Learn more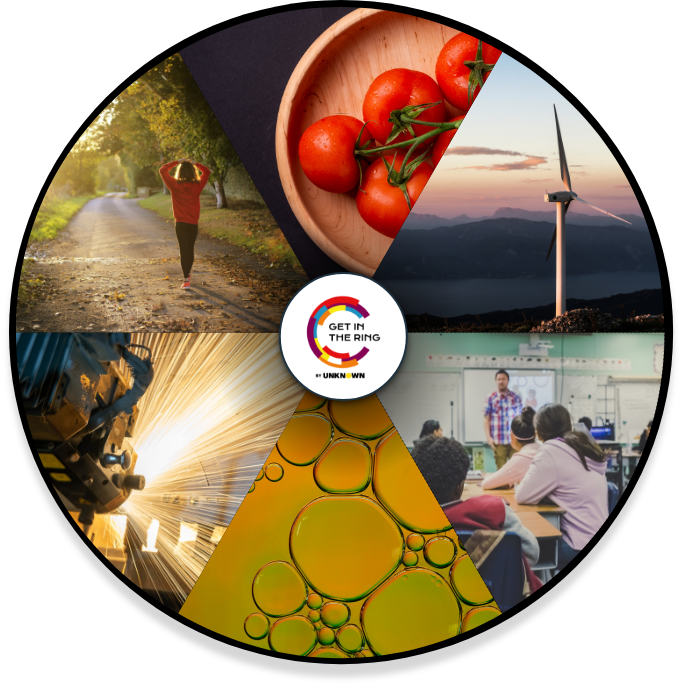 Capital that makes you scale
If you're a startup looking for growth capital, we can connect you to investors or assess your eligibility to access our own fund.
Convious were crowned the champions of our 2018 competition
"After winning the competition, our term sheet was raised to 3.6M in funding. Thanks Get in the Ring for that!"
Kevin Westermeijer - CEO & Co-founder Convious
"By winning the Get in the Ring competition LifeSense Group has transformed the largest women's health secret, into the largest spoken solution."
Julia van Zanten, LifeSense Group: solving urinary incontinence for women through wearable technology
Our global community of organizers: