APM Terminals Innovation Challenge 2015
€5,000 Only hours left
The deadline for this Challenge has passed, please check out our other Challenges
As the container transportation industry continues to evolve, the need for innovative equipment, technology and practice in terminal operations has become an increasingly important challenge to the port and terminal operating industry. APM Terminals remains at the forefront in innovative research, design and operations to provide the most efficient, cost-effective service to our customers throughout the APM Terminals Global Terminal Network, and around the world.
APM Terminals operates a Global Terminal Network of 72 operating port and terminal facilities and 140 Inland Services operations, as well as providing independent Crane Engineering Services to the global port industry, with a presence in 69 countries on five continents.
CHALLENGE
The product or service provides innovative solutions  that are related to key objectives for APMT MVII: safety, sustainability and efficiency in the field of ports and logistics
The product or service can be used within the business environment of APMT MVII, including but not limited to container handling, container or cargo testing, terminal safety, energy savings, healthy labor conditions, training/serious gaming
The product or service can in future be applied to other APMT locations and terminals worldwide
The startup company culture, product or service clearly support the APMT MVII values: learn, listen, care and trust
The startup has, or will have, a (protype) product or service for feasibility/field testing within 6 months
AWARD
€5,000 in cash
Access to APM Terminals global network
RESULTS
The winner of the APM Terminals Innovation Challenge 2015 is WhereAt Industries. 
WhereAt Industries is the inventor of ClusterNet, a carrier independent real-time cargo visibility platform. More information: WhereAt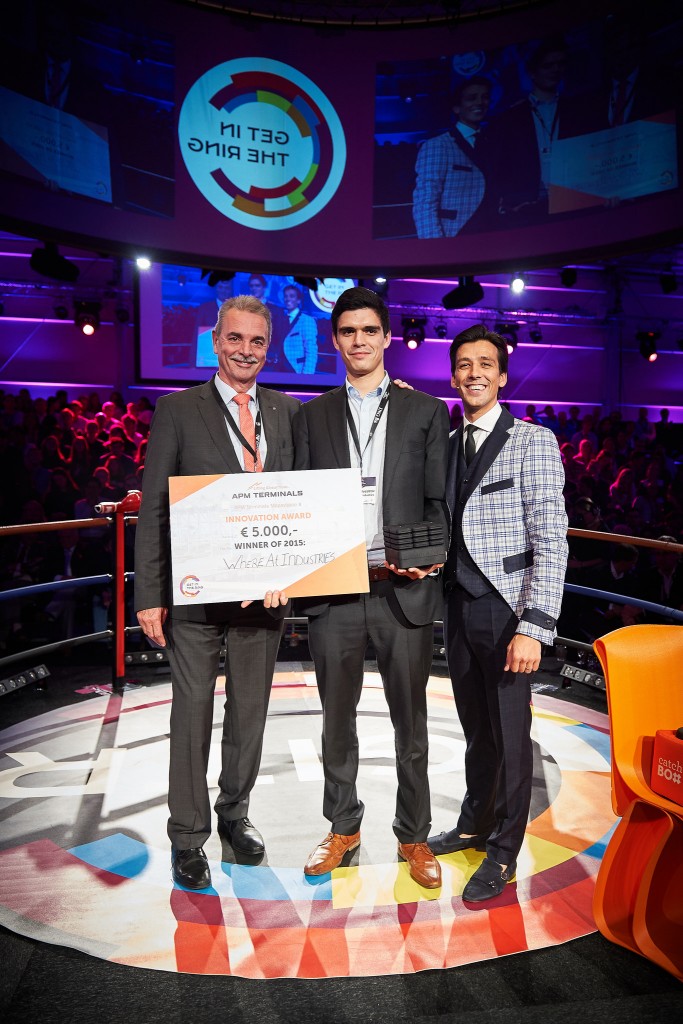 This Challenge is powered by Erasmus Centre for Entrepreneurship