Reduce, reuse, replace plastic packaging at Aditya Birla Group
Pilot contract, access to network, expert coaching, access to R&D facilities
Deadline passed
As part of the Clean Air India project, Get in the Ring and the Aditya Birla Group (ABG) are looking for innovative solutions to the ubiquitous problem of Plastics – reduce, replace, recycle and upcycle plastics and other less sustainable packaging materials.
As a $44.3 billion corporation, ABG is in the League of the Fortune 500. Anchored by an extraordinary force of over 120,000 employees, belonging to 42 nationalities. Over 50 per cent of its revenues flow from its overseas operations spanning 35 countries. Globally, the ABG is the number one is aluminium rolling, viscose staple fibre, and carbon black. It is also among top four cement producers (including China), the fourth largest producer of insulators, and among the best energy efficient fertiliser plants. In addition, ABG is the largest Indian multinational company with manufacturing operations in the USA, wherein 95 per cent of the workforce comprises Americans.
The deadline for this Challenge has passed, please check out our other Challenges
Supported by: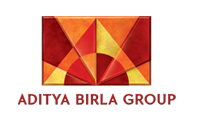 THE CHALLENGE
The amount of plastic produced in a year is roughly the same as the entire weight of humanity. ABG is taking the lead in addressing this problem in a sustainable manner while remaining competitive. By implementing your solutions, we can solve environmental challenges and maybe even create new business models in the process. We have identified four directions of solutions:
Reduce
Prevent the usage of plastics. Solutions could be as disruptive as innovations on logistics to take amorphous materials like cement to customers without the need of packaging or even material formats that can be transported without packaging
Replace
Replacement of plastics like HDPE/PE with alternative packaging materials that are reusable/ recyclable/ compostable
Recycle
Technologies to make the recycling of plastics more efficient and environment friendly
Upcycle
Solutions to reuse plastics without destroying them in order to form something valuable, using less resources than recycling
WHAT'S IN IT FOR YOU
Opportunity to get incubated at ABG facilities/R&D Centres and get funded

Opportunity to Pilot solution at ABG manufacturing facilities providing necessary experience to scale

Opportunity to expand rapidly since the Group has more than 300 manufacturing sites in various sectors

Work closely with businesses and industry experts to develop your solution

Association with ABG Brand and Network

Access to the Clean Air India network, an opportunity to potentially test your solution with additional corporates and governments in India
Additional criteria
You should:
Have a working prototype or product ready for production

Be able to launch a finished product within the next 4-12 months

Be cost effective (e.g. less than 10 INR (~0.14USD) per bag of size 71 cm X 48 cm for 50 kg capacity)

Have a solution that's impermeable to bulk products such as cement, fertiliser, food grains etc, able to hold 50kgs

Avoid affecting the current packaging ecosystem for bulk materials like cement, food grains, other amorphous materials or at least be easily integrated with current packaging system and/or processes.
Timeline
MARCH 3TH
APPLICATION DEADLINE

The deadline for proposals is March 3th.

END OF MARCH
ANNOUNCEMENT SELECTED STARTUPS

The announcement of the selection will be done at the end of March.

END OF APRIL
DEALMAKING DAY

Selected companies will be invited to discuss a potential collaboration with ABG at the end of April during one-on-one business meetings.The most relevant companies will be able to land a pilot project to test the proposed solution within the group.