Flow.ai is the big winner of the Future Technology Challenge, organized by Media Markt and the Get in the Ring Foundation. With their use of chatbots based on artificial intelligence, Flow.ai was unanimously chosen as the startup with the best solution to optimize Media Markt's customer experience. In addition to a pilot project at Media Markt Netherlands, Flow.ai received a wildcard for SPACELAB, the global startup accelerator of Media Markt in Munich.
The challenge focused on startups engaged in augmented reality, virtual reality and artificial intelligence. Out of 42 applications, 6 startups were selected to pitch at the Media Markt HQ in Rotterdam, the Netherlands. Competing startups included Crownstone, Blippar, Anchormen, Dutch Rose Media and CleVR.
Chatbots as a valuable colleague
The winning startup Flow.ai integrates chatbots in work processes. They do not see chatbots as replacement for employees, but as valuable colleagues. Flow.ai is therefore developing a platform that enables companies to use artificial intelligence applications in the most beneficial way, and stimulate the optimal cooperation between employees and chatbots. With the pilot at Media Markt, Flow.ai hopes to grow and develop a concept for the retail sector. Gijs van de Nieuwegiessen, Co-Founder at Flow.ai:
We are thrilled with this opportunity. We think Media Markt is the ideal partner for us because we would like to develop a concept in which artificial intelligence and chatbots are not just used in an  online environment, but also in the actual physical stores.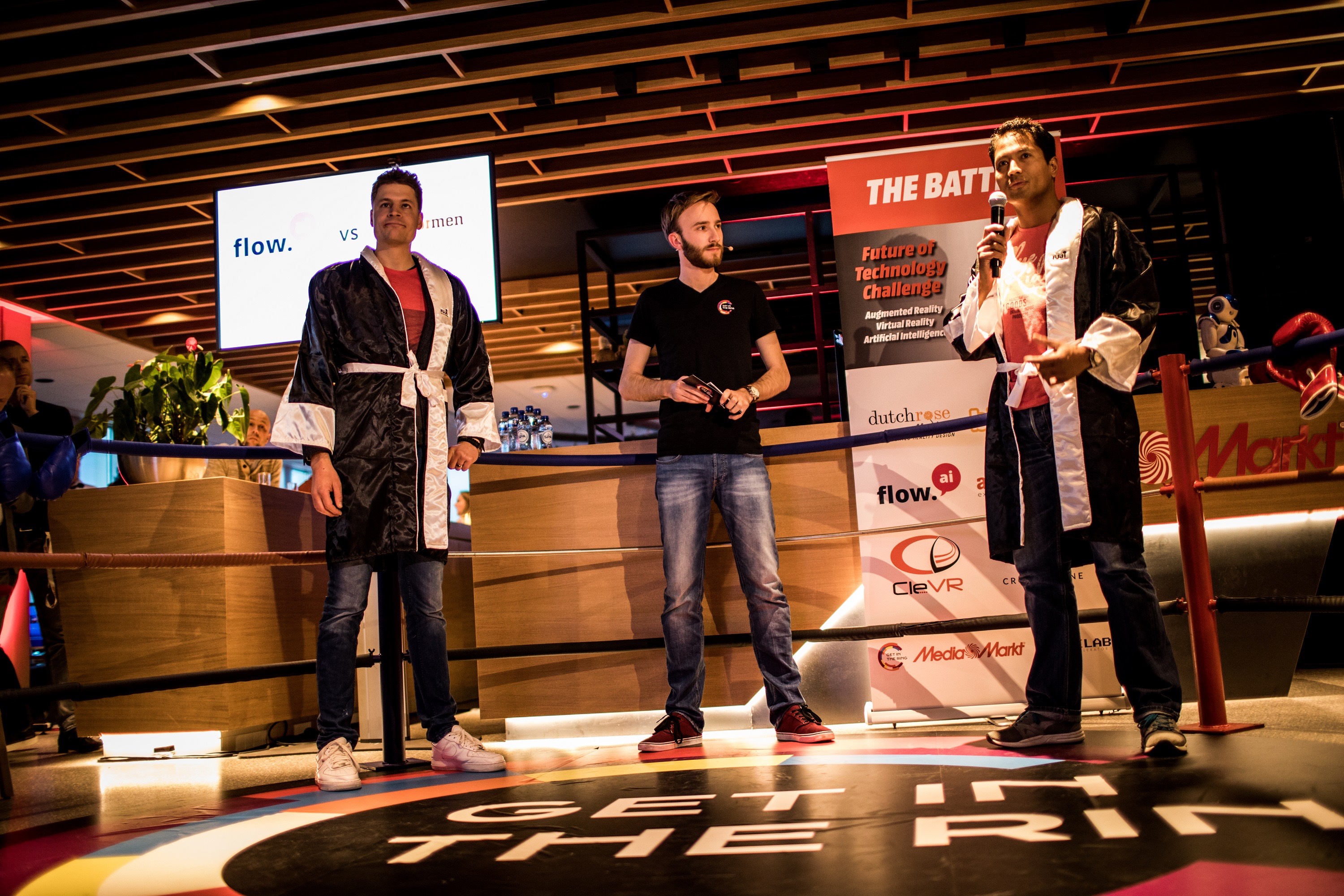 Technology is the means, the customer satisfaction the goal
The choice for Flow.ai is based on the idea that technology should always be a means, not an end in itself, as Dennis Hooijmans, COO at Media Markt Netherlands says:
Our top goal is customer satisfaction. With the application of Flow.ai we can improve our customer contact, provide 24/7 service and surprise customers by responding quickly and efficiently to the customer journey. By developing a concept together with Flow.ai that can also be used in stores, we want to make Artificial Intelligence a common phenomenon in retail.
Media Markt is already used to closely working together with startups in both local pilots and the global SPACELAB accelerator. As could be expected, the Flow.ai pilot is not the only result of this Challenge. Media Markt is also very excited about the innovative solutions presented by Crownstone and Blippar and is discussing a collaboration with them as well.  
Get in the Ring Challenges
This challenge is one of the many opportunities we offer startups to stimulate innovation. We challenge startups worldwide to apply existing solutions to the innovation challenges corporations, the public sector and NGOs face and the goals they set. With these Challenges we aim to form formal partnerships, in which business is done and impact is created. Learn more about our Challenges at getinthering.co/challenges.