After one year and events in more than 80 countries, we finally have our new Global Heroes. The last day of the Global Meetup 2019 crowned Dynaxion, fiskaly and SpotDraft as the most promising startups worldwide and our new global heroes.
"We are here to unlock the potential of the startups, even though we have three winners, everyone that steps on this stage is already a hero. It is about pushing them out of their comfort zone", explained Jochem Cuppen, co-founder of Get in the Ring.
Battles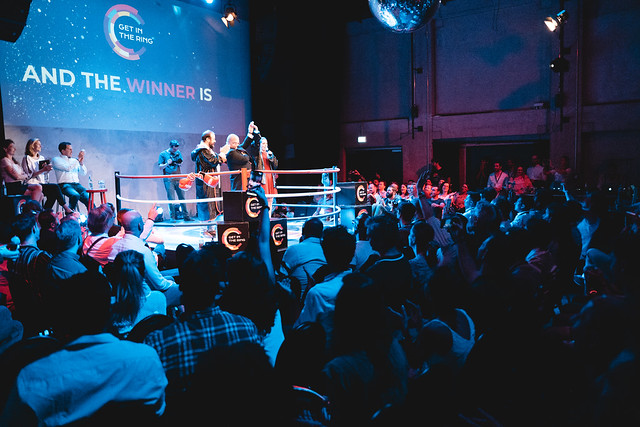 We end every Global Meetup with the Global Startup Competition Final, and this year was no different. Six startups got into the Ring to battle for the title, and three came out as Global Heroes.
The first battle was between Roboauto and Dynaxion. They started off strong. In the first round, Roboauto spoke about the future of self driving cars and the integral role that their technology already plays. They told the audience that they are "the only car in the Czech Republic licensed to be driven without a driver!". Dynaxion spoke about their deal with CERN and their press release at the White House, and compelled the audience that they were "not your typical startup, we are doing deep tech and we are solving complex problems." In the end, the winner was Dynaxion and their COO Emma Palmen.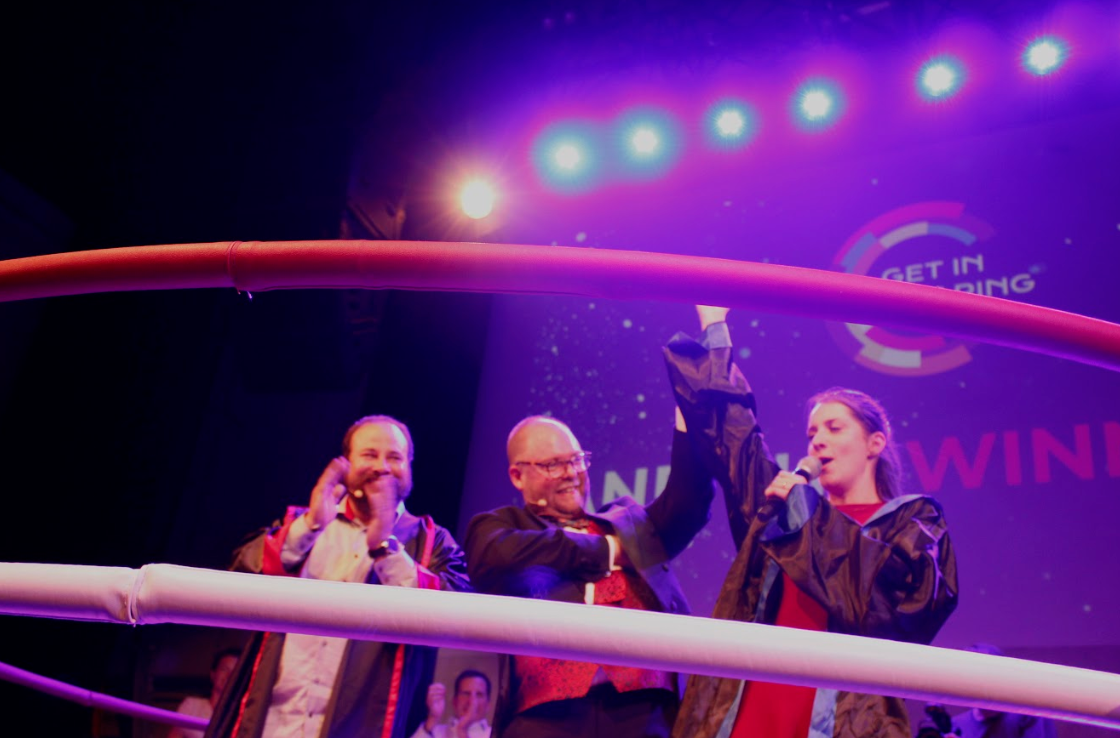 For the second battle, it was time to see fiskaly and PixelDisplay giving all they had on stage. Fighting from the Blue corner, fiskaly shared his team's impressive credentials, and countered PixelDisplay's strong IP claim by arguing "we have something that always beats IP, and that's cash" to many cheers from the crowd. PixelDisplay genuinely spoke about their desire to improve the lives of children across the world who don't have access to adequate optical care. However, after 20 exciting minutes and a very hard decision by the jury, fiskaly came out as the winner.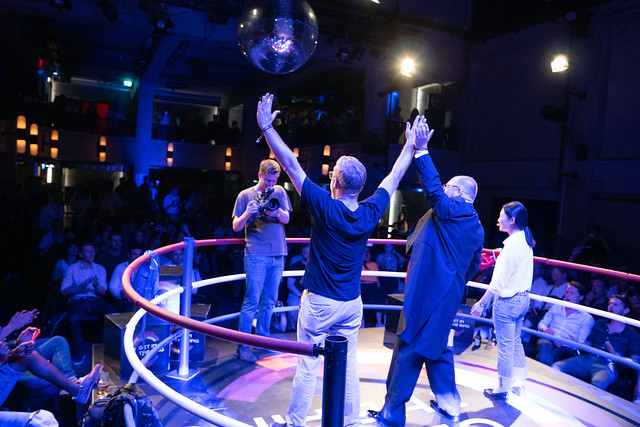 You could feel the crowd's excitement when the last battle began. uHoo had a powerful opening statement, calling themselves "the first step to clean air", but Spotdraft did not fall behind, sharing with the audience that "my utopia is putting lawyers out of business!". The two heavyweights fought hard, alternating powerful points, and handling the questions from both the Champions and the audience very well.  After 6 rounds, the jury picked Spotdraft as the ultimate winner.
For Eline Vrijland-van Beest, champion jury member, choosing the startups is often a matter of who has the most drive. "A winner is somebody that is extremely driven with a clear vision of where they want to go, so I always look for that in teams that present. Do they have enough drive and composure to overcome the hurdles that you will encounter on your journey?", she said.
Lightweight Winner
Dynaxion provides a next-generation solution that improves the accuracy and efficiency of security screening processes worldwide. Their solution Utilizes an innovative neutron-based scanning system based on particle accelerator technology from CERN. Dynaxion won a wildcard place to attend the GM 2019 and they were represented by COO Emma Palmen.
Middleweight Winner
Fiskaly offers a unified API for fiscalization across Europe. Once integrated, it will cover the whole spectrum of legal requirements for all European countries. They aim to simplify the stringent and costly constraints of financial systems, enabling businesses to be more flexible and dynamic than ever before. Fiskaly won a ticket to attend the GlobalMeetup2019 at WeXelerate, and they were represented by CEO Johannes Ferner.
Heavyweight Winner!
Spotdraft is an AI-driven end to contract management platform which helps businesses negotiate, sign, manage and analyze their legal documents.SpotDraft helps companies to put their contracts on autopilot. SpotDraft won a place at the GlobalMeetup 2019 by winning the Get in The Ring Enterprise Challenge, and they were represented by co-founder and CEO Shashank Bijapur.
Champion Jury Members
Our first Champion Jury Member was Tanja Emmerling, investor, Venture Capital and head of HGTF Berlin, which is Germany's most active and leading seed stage investor. HGTF is active in financing technology-driven companies and provides entrepreneurial and technological expertise from a network of experts. Tanja brought her knowledge of investments, leadership, and innovation to the high-stakes battles.
Also joining the Champion Jury corner was Eline Vrijland-Van Beest, founder and CEO of NightBalance, and Venture Partner Thuja Capital & BlueSparrows. Our final Champion Jury Member Jason Nadal has years of experience in strategy, business development, and partner engagement at companies such as Oracle and Microsoft. Drawing from years of experience and armed with knowledge, he was ready to judge our top 6 startups from the get-go.
Innovation tours
This mornings' innovation tour through Berlin had the goal of bringing startups out of their comfort zone, and giving them a glimpse of various success stories in the startup universe. It did just that, with visits to 12 locations across many industries.
During the tour, startups visited HelloFresh, Tierpark Berlin, Phineo/Omi potence ventures, Bosch Startup Harbour, Hubraum, Ape Unit, 3YOURMIND, Audatic, Penta, Element, Ubitricity and Garamantis.
Among the inspiring stories they heard, there was a hot topic addressed by Hubraum and faced by many in the ecosystem; how to create value for startups, and how to stay relevant in a changing market?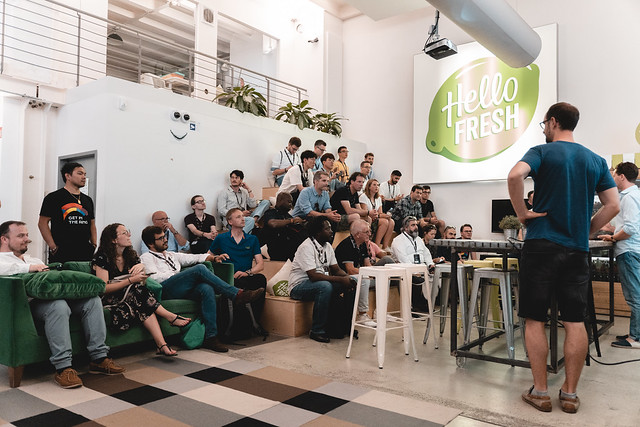 On the topic of staying relevant in a changing market, startups who visited Ape Unit had the chance to hear the benefits of exploring and embracing the unknown and potentially coming across an incredible idea along the way. 
From banking platforms, to e-mobility and the energy transition, to VR, the innovation tour was full of insights spanning numerous industries. It allowed room to discuss industry challenges and hot topics while also dishing out valuable advice and stories to the visitors.
Tags:
GM19