Last week, the Get in the Ring team went to Singapore to host the local selection event and to prepare for the Get in the Ring Global Conference happening this upcoming May.
LOCAL EVENT
The Global Conference is approaching but first we tested the waters at the local selection event of Singapore. The place where the magic happened was at Singapore's largest integrated startup space BASH, powered by SGInnovate. In a typical Get in the Ring format on the 30th of March it was all about investors matchups, internationalization track led by our partner 2Sherpa and the culmination of the day, the live battles in the Ring.
BATTLES
The final pitch battles were received with great enthusiasm as 120 investors, business leaders, students and startup enthusiasts gathered to watch the startups battle it out. The three knockout battles that took place, gave the right of way for the winner to attend the Get in the Ring Global Conference. All this was achieved with the support of seven volunteers from different universities in Singapore who worked tirelessly, helping to make sure everything was in perfect condition.
From all 18 startups that participated in the event only three managed to win their their way to the Global Conference. Glance Clock, a startup changing the old fashioned clock managed to secure their spot through their innovative new device, a wall clock that will integrate into your your daily activities.
Competing against them will be Uhoo, a creative startup with plug and play sensors that enable their users to measure the cleanness and safety of the air in their indoor space.
The final startup to advance to the final is Regit, an integrated communication platform for the management and exchange of personal information, continuously, securely, and transparently.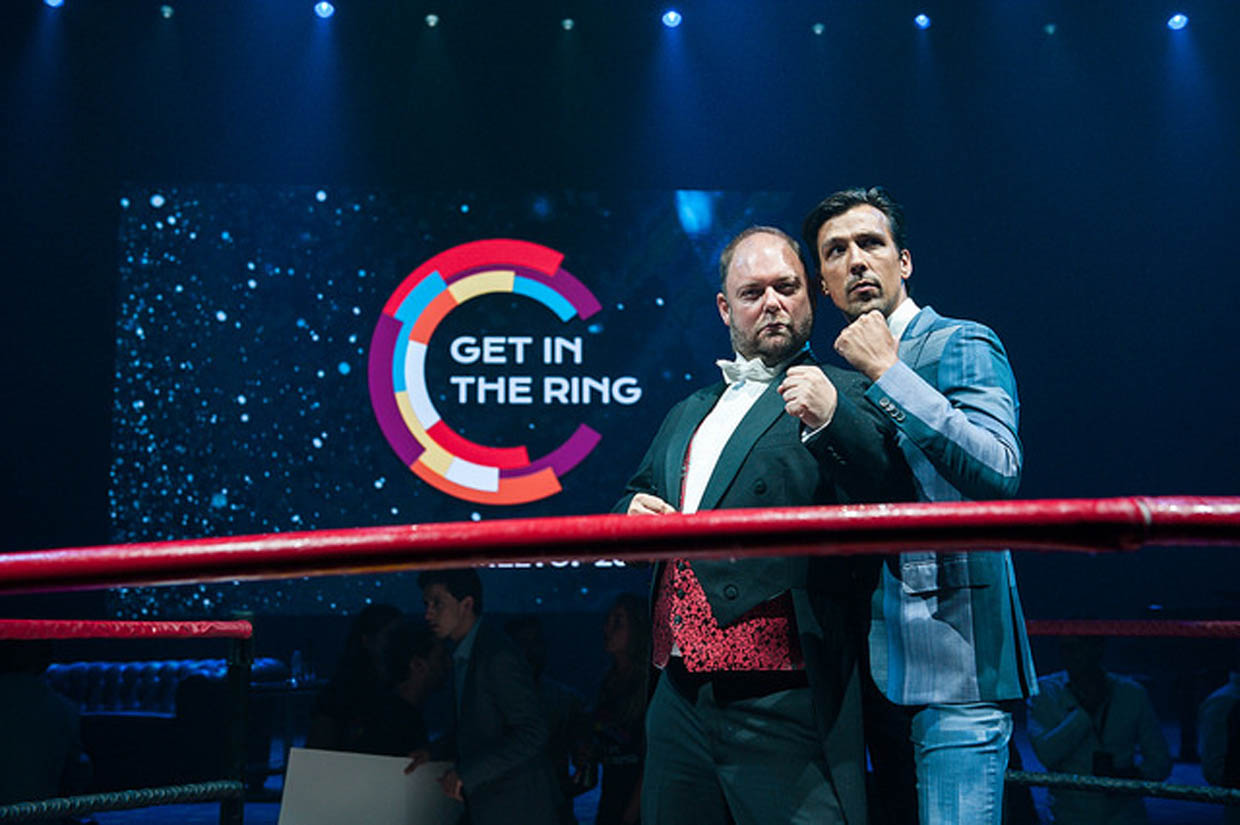 GLOBAL CONFERENCE
The local selection event was a great warm up for what's coming at the Global Conference. Over 150 startups will visit the best locations spread around Singapore. During the week in Singapore, our team visited all of the great locations that will be used in the upcoming event, in addition to passing by and talking to some of the partners that made this event possible.
Not to keep you wondering any more one of them is club MILLIAN at the St. James Powerstation! The spectacular club will host the Awardshow, the finals of the Get in the Ring Competition on the last night of the Conference! You can register here to make sure you don't miss the battle heat on stage and meet entrepreneurs from all over the world.
We would like to thank Millian, BASH, The Hub Singapore, JustCo, The Co and Amity Global Business School for allowing us to use their facilities during the conference. We would also like to thank our partners; SECB, Your Singapore, E-business Travel, Impact Hub Singapore, ACE, DHL, SG Innovate, Quest Ventures, Expara, VenturesOne, KK fund, Life.SREDA, Golden Gate Ventures, East Ventures, 2Sherpa, Startup Autobahn, OCDC and 500 Startups for their support.
Tags:
glance
,
Regit
,
uHoo