On November 15th, Korean startups were ready to put on their boxing gloves and  knock out their competitors! Last year the Global heavyweight winner was the Korean startup DOT, so we were anxious to see the innovative ideas competing for spots at the Global Final this year!
8 pre-selected startups in the lightweight and middleweight categories had to pitch in front of the Champion jury. This year part of it was our global director Jochem Cuppen; Henry Chung, Managing Director at DFJ Athena LLC; and Qian Wang, global director at Zhongguancun Innoway.  
LIGHTWEIGHT
The first to test their strength were the lightweight startups. The Battle was between DoBeDo and PreDecub. PreDecub offers a medical device that secures sound sleep and vitalizes daily life of physically disabled people. In the opposite corner, DoBeDo aims to let people collaborate to simultaneously create music together. It's like a puzzle: add, combine and play! The Champion jury however, was not entirely convinced by DoBeDo and announced the winner to be PreDecub!

The audience definitely was ready for the next battle when Flamingo and Asobo walked into the room. Flamingo claims to be able to recommend you the dish you'll like most at any restaurant you go to. The opponent Asobo provides transportation services with a language-match for people on vacation or business trips. Few moments later the Champion jury announced the winner and this was Flamingo!

MIDDLEWEIGHT
Time for the middleweight battles! With Pamily in one corner and Jongro Medical in the other, it's time for the middleweight battle! Pamily considers pets are part of the family, which is why they developed a smart toy that moves on its own. Jongro Medical presented Ovu: the smart kit to predict if you're ovulating by just licking it. Tough battle and knockout pitches but the undisputed winner was Jongro Medical.

For the final battle, Seong Win and Bluereo entered the ring. Bluereo aims to maintain hygienic oral management for anyone experiencing difficulties while brushing his teeth. To put it simple: Bluereo has a toothbrush that provides disabled people with the opportunity to brush their teeth themselves. Seong Win uses a micro bubble technology to purify water for example your shower water to make it drinkable again.  Both innovative startups, but with a knockout pitch Bluereo won over its opponent.

With 4 winners and only 2 spots at the Global Conference, it's time for the pitch-off! After some quick punches, PreDecub and Bluereo can be certain of their participation in the Global Final in Singapore.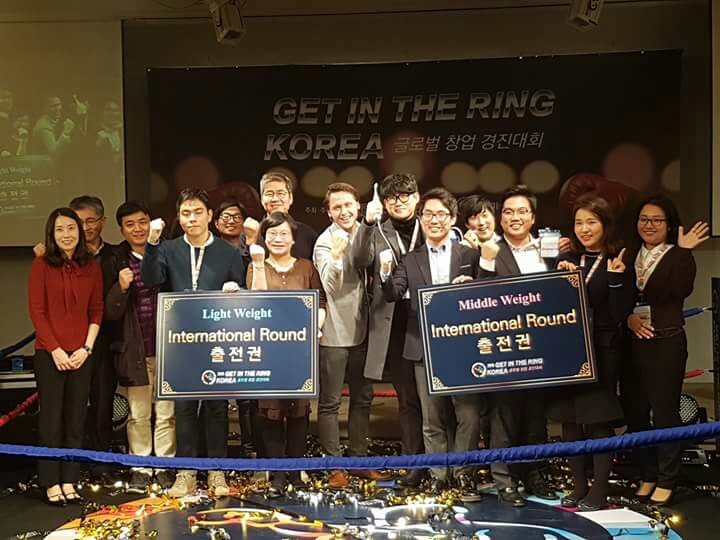 A ROYAL VISIT
Another highlight from South Korea happened one week later, when HRH Prince Constantijn organized a startup mission to Seoul. Together with startup ecosystem leaders from the Netherlands, Prince Constantijn exchanged ideas and experiences on what they can offer each other. Dutch and Korean VCs, accelerators and incubators participated also in speed dating sessions, to get to know each other better and talk business. .  On the 22nd of November, all attended our Get in the Ring demo event, where Prince Constantijn awarded ManusVR as most promising and best presented startup. ManusVR developed a virtual reality glove and is already closely working with organizations like NASA.
Safe to say we've had a great time in South Korea and owe a big thank you to our organizer on the ground: Korea Entrepreneurship Foundation.
You can see more pictures from the event here.
Tags:
bluereo
,
predecup