A suitcase that follows you around, a vacuum cleaner that does the job for you, a personal assistant, a window cleaner, a bed that makes itself. Robots are slowly becoming a part of our everyday lives and helping us in our activities. However, it may be hard to imagine a robot that could help families raise their children. Luna is here to prove that is possible.
For now, Luna is still just a concept, but in only a couple of months, she could be a part of family life, helping parents who require extra care, such as those with mild intellectual disabilities, for example, raise their kids in a structured, safe and healthy way.
"My end goal is to empower these parents, improve their self-efficacy and make sure they can live more independently, without the fear of having their child removed", explains Marieke de Paauw, a master student in Design for Interaction at TU Delft, who is currently working on the design of Luna, together with Garage2020.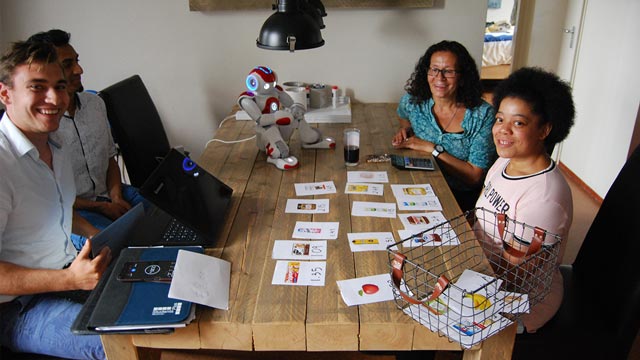 Design
In order to make the design of Luna, Marieke explains that she takes into consideration the user's perspective. It has to be a meaningful design that fulfills the needs of the parents, the children and the traditional care providers. She conducted extensive research in care facilities and spoke to many parents about this.
Marieke is reluctant to call Luna a robot, as people usually associate that to a humanoid looking device and the design is not yet ready. She prefers to call it an intelligent support tool. "One of the parents told me that 'humans of metal' would definitely scare them, and I think this emphasizes the importance of designing from the perspective of the user, because by listening and understanding the target group, your design will be much richer and fulfill their needs".
Most parents, however, were happy with the idea of having such a device in their homes, as long as they could understand what it would do, its tasks and how that would be monitored.
Living with Luna
But how will Luna operate in everyday life? What will her functions be? According to Marieke, Luna's tasks are to provide help to the parents in structured daily activities, improve their self-efficacy and enable the caregivers to give a better and different quality of support to the parents, such as emotional help.
So small daily activities, such as having dinner together, doing the groceries, eating healthy, would be the sort of thing Luna would assist them with. Parents and care providers will establish the goals together. The way it works now, for example, is that everyday at 7 pm a care provider would visit a family to make sure they are having dinner together. If this task is now Luna's, that gives the care provider a lot more time to focus on other ways of improving family life, thus helping these families even more.
The advantage of having an intelligent tool instead of a human is that it will not judge the parents, who sometimes are scared of asking for help. "If there's a problem, the device will simply support the parent to solve it, but it will not judge or be able to say or think something about them", says Marieke.
The goals of each family are varied, and it is important that Luna is able to adapt. What is also relevant, according to Marieke, is that she should be there when she's needed, but shouldn't be unnecessarily interrupting their daily lives.
FIND OUT FIRST ABOUT OUR ANNOUNCEMENTS AND EVENTS
Be inspired by cutting edge technologies from all over the world and stay up to date with the latest opportunities for startups.
SUBSCRIBE TO OUR NEWSLETTER
Trust and privacy
Having such a device inside your home also raises a lot of questions concerning privacy, these mostly arise when they start validating in real life, thus this should be questioned together with all stakeholders. Marieke assures that no information will be shared with the care providers without it being previously agreed on with the parents. Together, parents and providers will decide on goals and on which information will the providers have access to.
"The parents need to know which goals and information are given back to the care providers. They should trust Luna and, to create this feeling, it is important that the device will not share anything that is unnecessary", explains Marieke.
Software
Currently, Marieke is working hard on getting the design of Luna just right. The one thing the device lacks now is a software to make all of this into reality. Luna should have a strong character, a sense of humour, be able to lighten the mood and act more as a partner than an assistant. She should know when she is needed and when she isn't.
That's why Enver, a care facility that supports children, youngsters and parents, together with Garage2020 and the Municipality of Rotterdam have joined forces with Get in the Ring to find motivated innovators to work in this very special project. So, if you're working with this, join the Health Innovation Challenge in partnership with the Municipality of Rotterdam and Erasmus Center for Entrepreneurship and help innovate the youthcare sector with robotics.