Every 5 minutes of longer suturing time is associated with 1 day extra in the hospital. In complex medical procedures, the risk of severe complications can be reduced significantly by improving accuracy and speed of suturing. It sounds like the holy grail: improve patient outcome while reducing healthcare costs. Well, we found it! An innovative suturing device called the Switch® developed by Mellon Medical.

Mellon Medical (Mellon) is the recent heavyweight winner of Get in the Ring Netherlands. We sat together with CEO Lieuwke de Jong to learn how they came up with their disruptive technology. Will they set the new golden standard in cardiovascular suturing?
THE STORY
The CMO of Mellon, Dr. Mark Vrancken Peeters is an experienced vascular surgeon. He wanted to resolve the lack of accuracy and speed in conventional suturing. Mellon, therefore, developed the Switch®, an automated suturing device, as accuracy and speed in suturing improves patient outcome and reduces healthcare costs.
HOW IT WORKS
It looks like a very fancy tweezer, a futuristic gadget. By pressing the buttons, the medical specialist can probe the tissue to be sutured. Once s/he has pinpointed the perfect spot to place the suture, they simply press the buttons a bit harder to activate a mechanism that releases the needle from one jaw and secures it in the other, effectively transferring the needle through the tissue and placing the suture. But that is not all. The whole process can be done with one hand only, giving one hand back to the surgeon for self-support.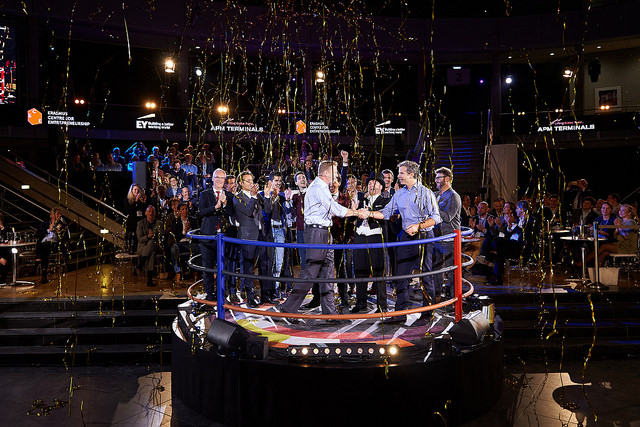 SUCCESS
Mellon has an ambitious plan. Besides their short-term focus on obtaining CE-mark, their long-term goals include geographical expansion and device diversification through the development of their platform technology in a portfolio of suturing devices that can be used in a wide array of disciplines and procedures. Besides their initial target markets Netherlands and Germany, Mellon – in due course – wants to enter the Swiss, Scandinavian, British, French and American markets. Their first device is an 8 cm model. After a market introduction of this model, they want to develop a micro-model and a laparoscopic (robotic) version. In 10 years from now, the majority of medical specialists worldwide will use the Switch® technology as their preferred method to suture.

In less than 4 years we managed to create a prototype that is truly disruptive as it has the potential to significantly improve patient outcome, even save people's lives."
CHALLENGES
To convince a group of highly educated surgeons that your product is a breakthrough invention is challenging. Most of them will need to experience the device first to understand and acknowledge its added value. It will take time and effort to prove the technology will really make their work easier. Yet, medical specialists who have worked with a prototype of the Switch® are enthusiastic about its potential.
Mellon has the potential to be a market-maker. At the same time, this potential appears to be its biggest challenge as many investors look at existing markets and products to compare the business case. They quickly find there is no market data available to support their financial analysis. In parallel, there is a lack of scientific evidence to prove the health economics, simply because there is no technology available yet generating the required data; in other words: there is no device currently able to suture in at least half the time! Showcase catch 22 situations…

"Today, there is no automated suturing device available in the cardiovascular segment. Mellon is developing a device that gives the functionality this segment needs: precision and speed. We, therefore, have the potential to become a market-maker."
Lieuwke is confident their innovative technology will be successful and will eventually set the golden standard for suturing.

CONNECTIONS
Mellon is revolutionizing suturing but needs your help! If you are an investor who wants to make a real difference for both patient and medical specialist, then contact us so that we can connect you with this promising venture!
Mellon Medical will be part of our Global Conference from 17th to 19th of May in Singapore! Do you want to meet Mellon Medical in person? Join the Global Conference at getinthering.co/globalconference