PRESS RELEASE
The 6th edition of the competition is open for startup applications
This year startups can access up to €10mln in capital
Former finalists have already raised millions
Today, Get in the Ring announce that the 6th edition of their Global Startup Competition is open for applications. This year an additional funding opportunity has been added to the competition. In partnership with VenturesOne and a group of private investors €10Mln in capital is committed to invest in selected finalists of the competition around the world.
Get in the Ring is a Dutch startup platform active in over 100 countries connecting companies to opportunities that allow them to make deals and gain global exposure. The yearly pitch competition will be held between December 2018 – June 2019 and invites innovators to pitch their solutions at local selection events across the globe.
FIND OUT FIRST ABOUT OUR ANNOUNCEMENTS AND EVENTS
Be inspired by cutting edge technologies from all over the world and stay up to date with the latest opportunities for startups.
SUBSCRIBE TO OUR NEWSLETTER
Startups can participate by applying online for a local selection event in their region to secure deals with local investors. Selected startups will receive pitch training before being reviewed by experts. The best companies at every event will battle one-on-one in a ring for a ticket to the yearly global final where they will connect with international partners. This year participants of the competition can also directly apply for investment between €50-500K, which is made possible through the announced partnership.
Finalists of the competition will be invited to attend a 3-day meetup with 150 of the best startup companies globally. The global winners will be supported by Get in the Ring to scale and secure business deals.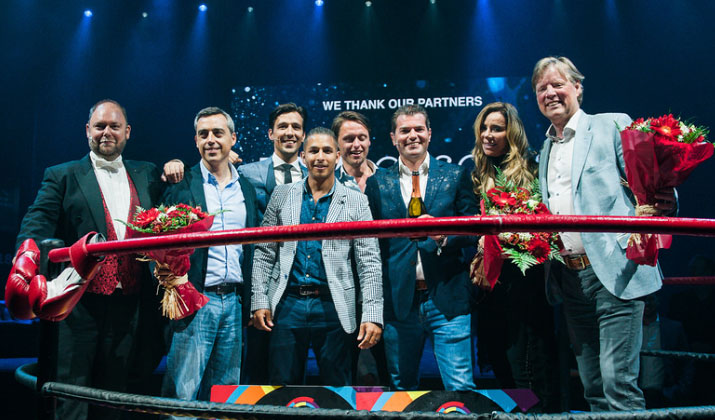 Speaking of the reason behind introducing investment to the competition, Jochem Cuppen co-founder of Get in the Ring said:
"Every year through our competition we see thousands of promising companies. We've been introducing them to our corporate and investor partners for the last six years and have seen great results. One of our first winners EyeVerify was sold for over €100mln. Recent alumni have also done well; 2017 winner Dutch femtech pioneers, Lifesense Group raised €3 after participating in the Global Meetup. The year before 2016 DOT from South Korea, who make smart watches for the blind, raised $6.3mln. We believe it's important to capture this value and increase the speed at which participants can raise funding, which is why we're now collaborating with VenturesOne."
Startups looking for investment simply need to apply for the competition. All participants will be screened for investment potential during each selection event and may even receive an offer if eligible.
Edward de Jager, CEO of VenturesOne, believes the partnership is not only about the committed capital:
"VenturesOne are active investors. We believe in rolling up our sleeves and working directly with entrepreneurs to take their company to the next level. By collaborating with Get in the Ring we are able to identify top entrepreneurial talent and besides providing the funds also connect them to a global network and opportunities to work with for example corporate partners."
Startups can apply for the competition by visiting www.getinthering.co/globalstartupcompetition
Investors interested in collaborating can reach out to jochem@unknowngroup.com