On 15th of November Prague was shaken up by the startup fever as Czech startups were about to rock the ring. "The City of a Hundred Spires" once again proved to be a hub of  ideas and tech innovations that gathered more than 100 people in a search of the most promising solution.

Out of 18 startups, 6 were preselected to face-off in front of the Champion jury. This year it was the good selection of Olga Girstlová, CMAPM ; Andrej Kiska, Credo Ventures; Václav Dejčmar, RSJ.com; Petr Bučík KPMG; Daniel Zelkind CEO Zeek.

4 battles, 1 winner
The gong was hit and it was time for the first two startups to battle. TOGlic is an education tool of the future. Teachers can easily create crosswords, sentences, voting systems on their Ipads or computers and involve the students in an interactive learning. In the opposite corner was MOB-Bars focusing on production of mobile barriers based on concrete composites. Though the forces of the battle were balanced, the jury has chosen the winner to be TOGlic!

Second battle came along! MyStay is enhancing the relationship between hotels and customers by their app. You can rate your hotel, contact the reception and open your room. Up against him was Locaid.me the indoor crowd safety system of devices detecting fire, in real time. An app notifies and guides people on what actions to take based on detection and mapping data. Although Locaid.me was supported by the audience it wasn't enough to  convince the Champion jury and MyStay came out victorious!

Gloves were thrown down for the third battle! Yakub from Techambition offers an online app that tells the teacher what to focus on during their classes and how to explain it. It also recommends suitable interactive tools to use during the explanation in class. In the opposite corner Alex from Virgla aims to disrupt the traditional way of publishing and advertising. They want to bring together users with similar interests and keep them engaged through a specially designed content. It took a few moments for the Champion jury to decide the winner of this battle and it was: Techambition!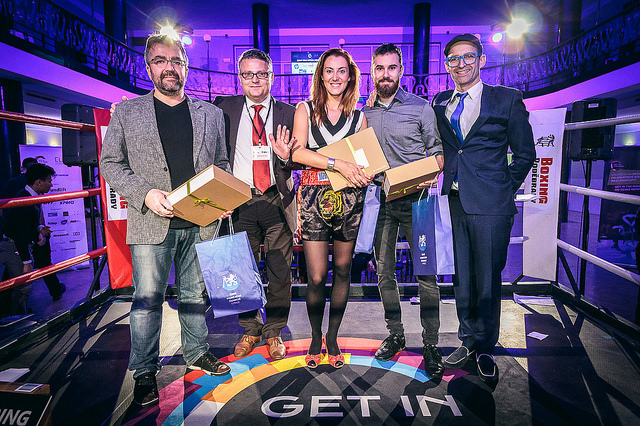 The last Fourth round was the battle-off! Three startups and only one spot for the Global final in Singapore!  Who would be the winner – TOGlic, MyStay or Techambition? One minute of final pitches and the winner was announced – Techambition!

We would like to thank the organizer of the event Elai for the fantastic work and our partners: Fundlift , e.on and KPMG!
Find all of the pictures form the event here.