After a packed day of virtual dealmaking meetings with leading Dutch impact startups – 140 to be precise – the jury members have had their say. It was a tough call, but here are the four finalists for Get in the Ring The Netherlands – Impact that will go on to compete in a pitch battle livestream on October 29 at 4PM CET:
FIND OUT FIRST ABOUT OUR ANNOUNCEMENTS AND EVENTS
Be inspired by cutting edge technologies from all over the world and stay up to date with the latest opportunities for startups.
SUBSCRIBE TO OUR NEWSLETTER
Pitch Battle #1 | Ampyx Power 🚁💨vs SolarDew 🚰💧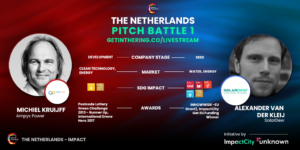 Ampyx Power [Watch their Pitch] enables access to untapped wind via airborne wind energy systems that reduce carbon footprint by 50% and materials by 90%.
They will be competing against…
SolarDew [Watch their Pitch], who have created a desalination technology that can be rapidly deployed as a compact, inflatable product after a natural disaster or as a permanent source of drinking water.
​​​​
Pitch Battle #2 | Willicroft🌱🧀 vs Circularise⭕♻️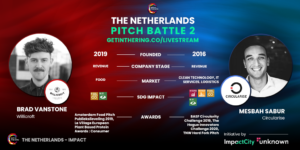 Willicroft [Watch their Pitch] have succeeded where many others have failed, by bringing ideal taste, texture and shelf life to plant-based cheese.
They will be squaring up against…
Circularise [Watch their Pitch], who use blockchain to make raw materials traceable, giving them a digital identity, while simultanenously protecting stakeholder privacy.
Missed the finalist announcement? Watch it back over here:
Which impact venturers emerge from the pitch battle showdown as the winners of Get in the Ring The Netherlands? The stage is set at getinthering.co/livestream – find out at 4PM CET on Thursday, October 29.