There wasn't a single tech soul in the Netherlands that didn't hear about the XL DAY on the 16th of March. Tech hub Eindhoven once again proved to have the best high-tech startups of which the majority aims to make a societal impact! An audience of investors and startup enthusiasts gathered to witness fast-paced innovation and growth.
Eindhoven is known as Europe's Silicon Valley, but the city is aiming to become the world's tech capital in the next 10 years. CEO and founder of HighTechXL Guus Frericks knows that it takes consistency to change the environment and transform bottom-up the corporate companies to embrace innovation. As Guus pointed out:
"We are probably better than Silicon Valley, people just need to know us. This is why we started the great partnership with Get in the Ring – to get internationally known!"
Last year on the XL DAY we made the first step towards creating a valuable tech ecosystem as we launched our partnership with HighTechXL. Together we worked on several Challenges to help companies disrupt the corporate environment and boost their innovation. Since then we initiated several pilot projects between startups and Philips, ABN AMRO and ASML.
FIND OUT FIRST ABOUT OUR ANNOUNCEMENTS AND EVENTS
Be inspired by cutting edge technologies from all over the world and stay up to date with the latest opportunities for startups.
SUBSCRIBE TO OUR NEWSLETTER
AN INVESTMENT CONTRACT SIGNED ON STAGE
Many promising solutions were introduced on the HighTechXL stage. Sustonable even signed an investment contract for €350K right on stage with BOM and Dekker! The startup created the first ever 100% recyclable composite stone from plastic packages and materials.
Berkelman, the founder of BerkelBike, created a bike for patients with spinal cord injury to use their paralyzed muscles whilst cycling. In a dramatic entrance paralyzed Johnny Beer Timms demonstrate for the audience what limitless possibilities BerkelBike is providing him.
It would be difficult to introduce all of the amazing solutions from the HighTechXL stage, as there were just too many: Oriense, Hugsy, Onera, UVisio, Lia, Crayonic, Ovao Swimming, IPOS, Otis Insight, Uscoutfor!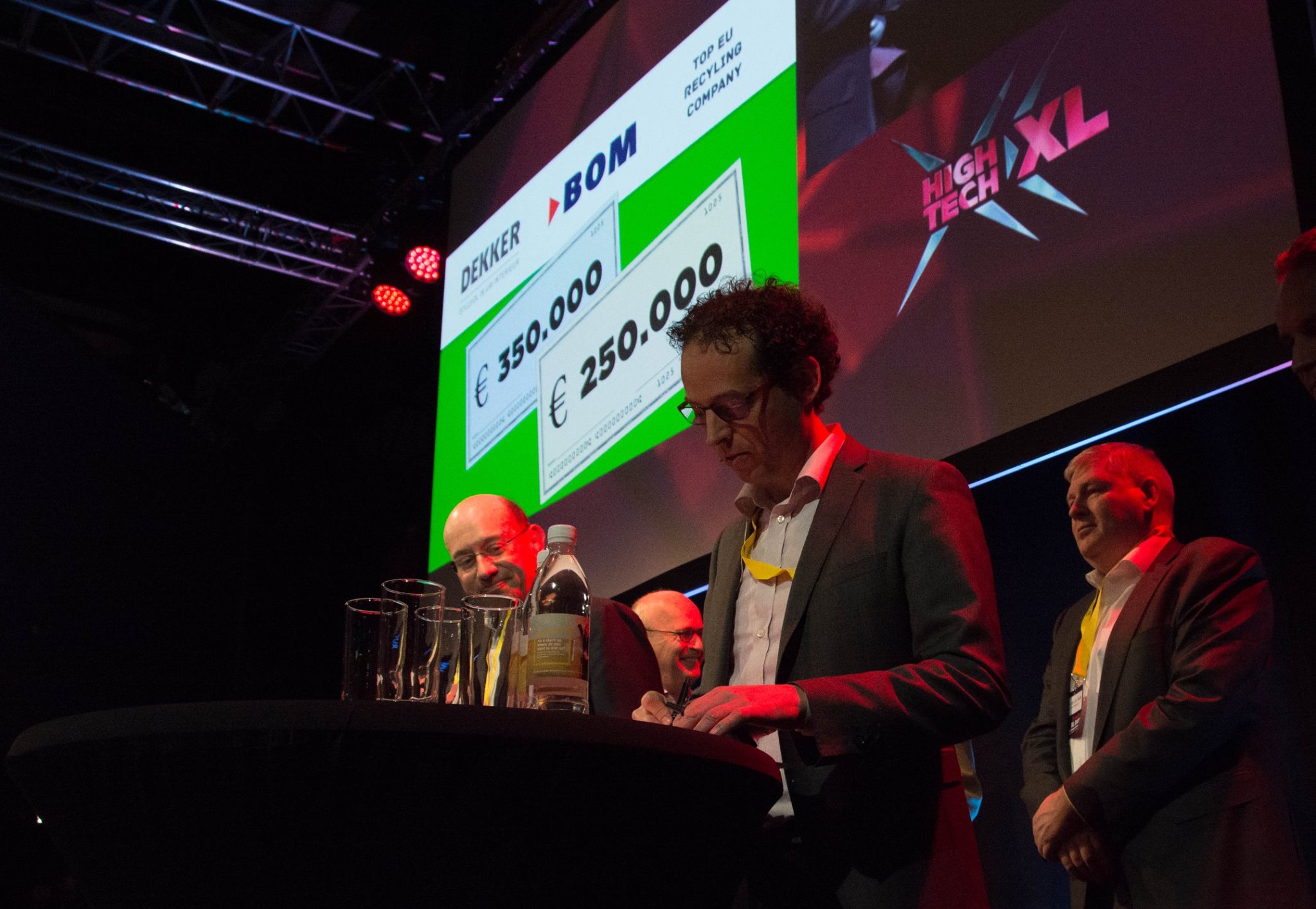 ALUMNI BATTLES
The culmination of the XLDAY event were the alumni battles! Have you ever wondered what happens to startups after their acceleration period? 6 of them faced off in the Ring for a chance to prove they grew "faster and stronger" than the others, and to win a ticket to the Global Conference.
WINNERS
LifesenseGroup created Carin underwear with the ultimate purpose to empower women. Urine loss is considered as one of the last remaining taboos in women's health. With Carin they want to make steps forward in reducing the numbers of women with urine loss and providing them with the right tools to control their bladder.
Manus VR – The Manus VR Development Kit is a high-end data glove that brings intuitive interaction to virtual reality. Its unique design and cutting edge technology allows for truly immersive experiences by tracking your hands in real-time. With an unlimited amount of possibilities, the Manus VR Gloves offer key solutions for training simulations, VR arcades and motion capture. They're already working with NASA, but would like to train surgeons in the future!

Bambi Medical is currently developing the Bambi-Belt for pre-mature babies. The Bambi-Belt is a monitoring device that doesn't require electrodes attached to the baby's body to measure the respiration and heart action. The care for these babies is currently invasive and does not allow for sufficient skin to skin contact between mother and child, called kangaroo mother care. The Bambi-Belt will be a revolutionary way to monitor vital signs of babies. The Bambi-Belt will release the baby of the pain and stress caused by the currently used adhesive electrodes.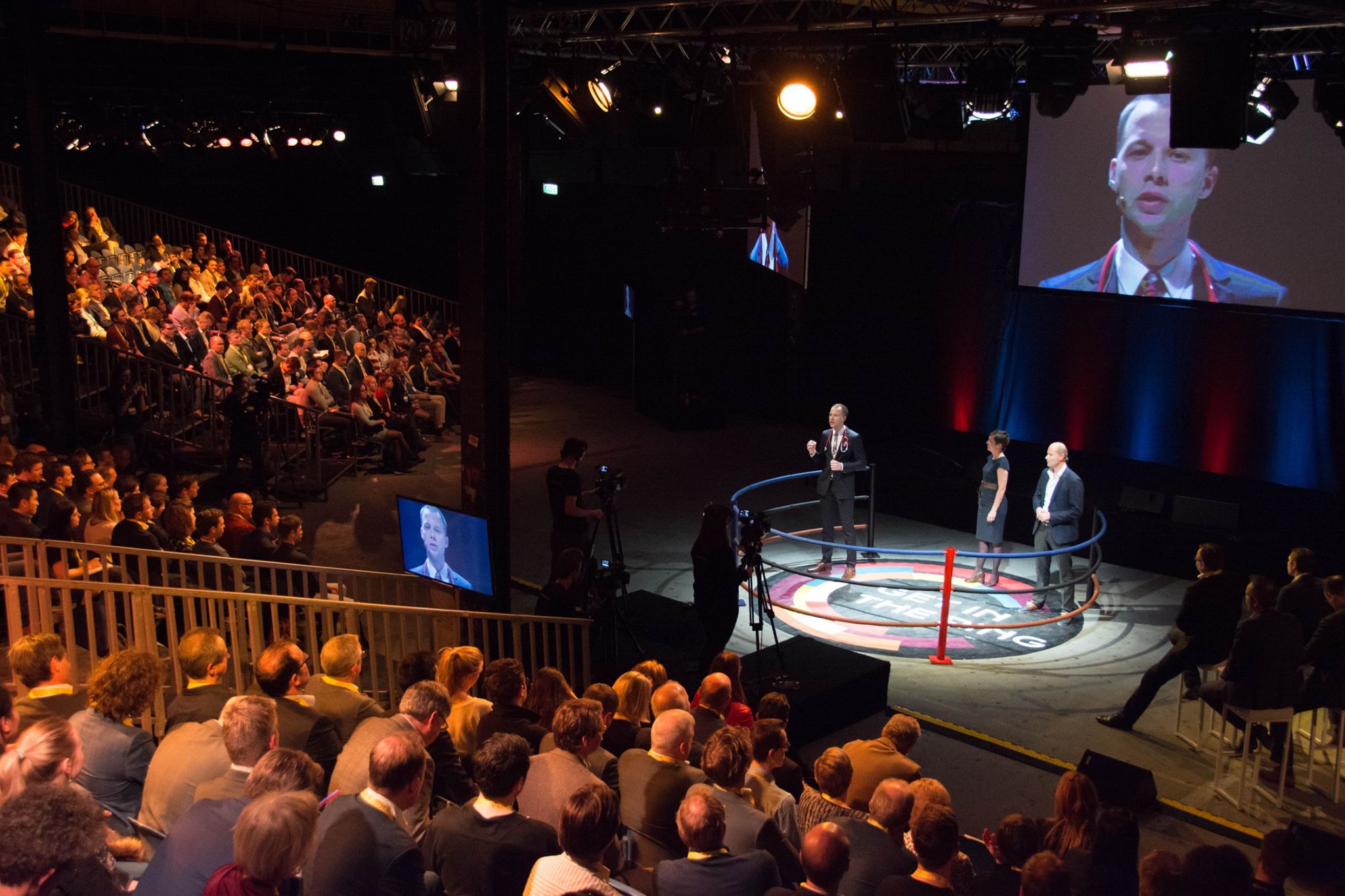 RUNNER-UPS
Ambermobi created Amber One, a lightweight, long range, highway capable electric vehicle with a lifespan of 1.5 million kilometers.
StethoMeTM  is the first medical diagnostic device of its kind – one that monitors the respiratory system and measures body temperature in a precise but user-friendly way.
Usono facilitates medical staff in their work to provide better care, by rethinking the context of use and developing new ultrasound accessories, designs and applications. Usono radically changes the ultrasound application market by improving and innovating the way ultrasound is used.

XL Day was again an amazing event that put together arising startups, alumni and investors to create valuable connections with one ultimate goal: to use tech as a tool for a better future!
Tags:
bambi
,
manusvr