In an unprecedented move, the Management Team of Get in the Ring have taken the decision to expand the upcoming Global Final Battle. This means that four startups will now be able to earn the title of Global Winner of the Get in the Ring Global Startup Competition 2020-21. 
Global Meetup 2021 is the culmination of our year-long startup competition with 100+ online events and 25,000 startup applications from 107 countries. Originally slated to air on April 14,  the most unique Get in the Ring production yet will premier globally April 21 on getinthering.co/livestream.
Elaborating on the decision, Get in the Ring Director, Jurgen Nieuwenhuijsen said: "After two electric Pitch Days, it was clear to us that we were dealing with an exceptionally strong crop of startups. Instead of having to make an impossible decision, we decided to extend our global podium to the 8 most promising startups and give them the spotlight to showcase their solution with the world watching."
Here are the pitch battles taking place at the Global Finals 2020-21:
Omniflow (PRT) vs Qpinch (BEL)
In this battle of carbon neutral energy heavyweights, we have the Winner of our Lisbon event competing against the winner in Antwerp. Omniflow has been making all the right kinds of noise with their smart city solutions. Their smart lamp pole, powered by wind and solar, can retrofit existing streetlights, converting them into a sustainable smart pole multitool. They face off against QPinch, a heat pump with applications in the petrochemicals, food & beverage and paper & pulp industries, helping save over 50% on energy bills by capturing, transforming and delivering heat as energy.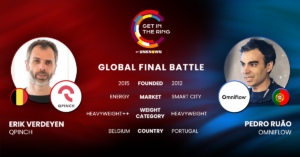 LOOP Mission (CAN) vs Vertical Future (UK)
Amongst the Food/Agri ventures, we've got a tasty showdown between the Winner of our Montreal event, LOOP – who bring back value to rejected food by transforming it into products like juices, smoothies, beer, soap and seaweed and the Winner of our London event, Vertical Future – an AgriTech business that designs, builds and licenses advanced agricultural hardware and software systems. Both technologies are essential to the future of food. However, this battle can have only one winner. Who will it be? Find out on April 21.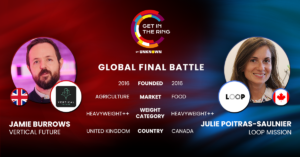 Oncompass Medicine (HUN) vs 6degrees (ISR)
0,0002 seconds – that's the time it takes Oncompass Medicine's AI tech to choose the most appropriate and effective targeted therapy for cancer patients. Their effectiveness faces up against the inventiveness of 6degrees' proprietary MyMove device. The MyMove is an AI-powered and motion-based wearable device that gives people with disabilities the ability to use smartphones, tablets and other smart devices with motion-based insights.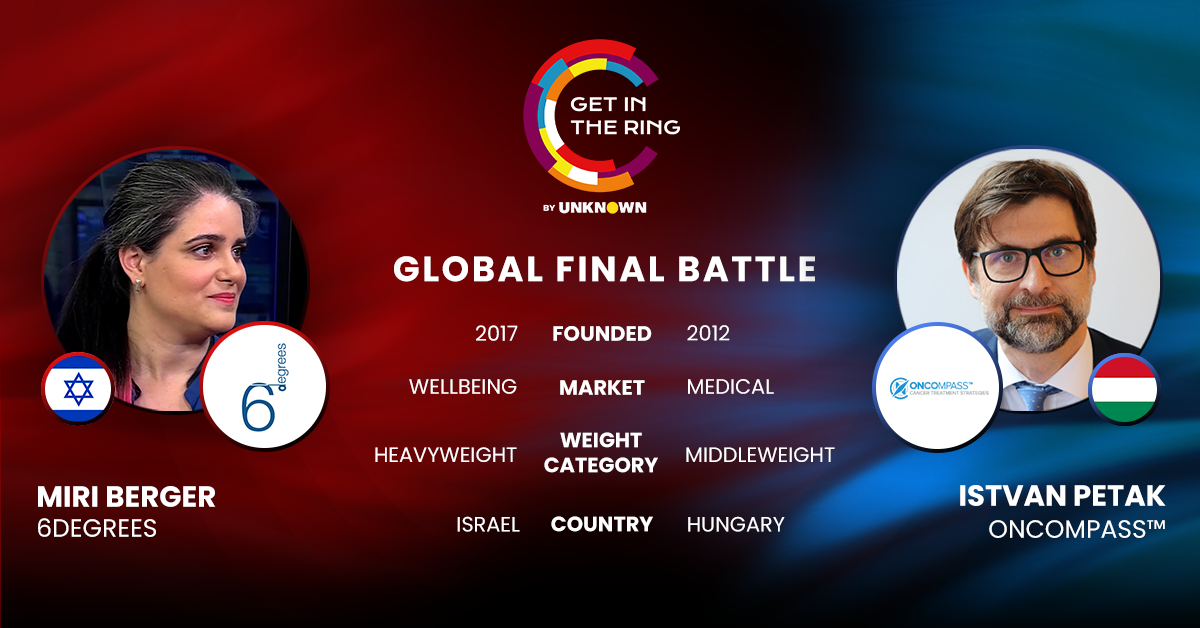 EAGLYS Inc. (JPN) vs Apiax (SWI)
It's privacy vs compliance intelligence in battle of these FinTech ventures: EAGLYS Inc.'s technology allows for processing over encrypted data, without ever decrypting it – a gamechanger for financial institutions to process customer data while assuring customer privacy. As Winners of our Osaka event, they're competing against Apiax, who provide APIs to transform government and industry compliance regulations and other policies into digital rules for financial institutions.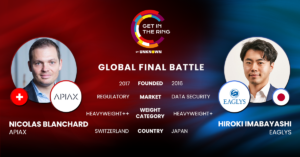 Hosted in a virtual setting for the first time, the Get in the Ring Global Finals 2021 promises to be a blend of everything we've come to love about Get in the Ring over the years: driven founders, game changing solutions, palpable excitement and energy and meaningful deals. It's going to be a helluva show, get your free ringside seat here.