We're living in challenging  times. Each and every one of us has been forced to step into the unknown, and experience life as we've not experienced it before. 
In times like this, it's more important than ever before to find new ways of working. To embrace innovation and discover unconventional solutions that can solve global challenges like this.
Try to see this time as an opportunity to try something new. A way to re-engage with your community and connect with inspiring innovators.  
In our mission to identify unconventional solutions in all corners of the world, we realised that physical events shouldn't be the only way cities can take part in our competition. We're all experiencing a new way of running our businesses and living our lives. 
That's why in december last year we started to extend our competition and launched online selection rounds – just in time to support a global community of entrepreneurs in this difficult period. Our recent Get in the Ring Boston , Tokyo, Taipei, London and Warsaw editions are only the 1st of many similar online competitions that we are holding this year. And online selection rounds in San Francisco and Vienna are now live. Want to join us with your city? Let us know.
Here are five lessons we learnt from adapting our business to suit the needs of our community. 
1. Activate the local ecosystem
Whenever we're scouting for startups in a specific region, we always connect with the local ecosystem. The startups we're looking for aren't unicorns – they are early stage innovators that are still unknown to most. Except by their local neighbours. So whom to better ask than local people. By partnering with the local ecosystem, we are able to find the most promising startups. It's really important for us that the local ecosystem is fully involved in our activities, so that they also experience the benefits when startups are given growth opportunities.
We do this by creating an ecosystem map of the specific region. The map signifies startups and experts in particular fields. By mapping them, we create a way for people to easily visualize the ecosystem, and contribute to it if something is missing.
2. Use the power of the crowd
A local ecosystem is not being mapped by desk research only. Our approach to this is to create a first version of the map through our network and release this version as soon as possible. Word of mouth remains the best way to spread news and get recommendations. We have found that this works really well through LinkedIn. By sharing our ecosystem map with local partners in the region, we have noticed that people instantly begin engaging with it – either because they want to contribute, because they notice they're on it, or notice they're not on it. This is the best way to find out who we should be engaging with.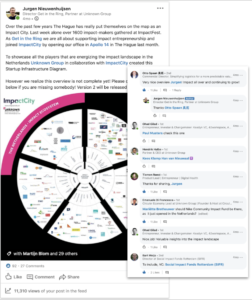 3. Use the right online tooling
Once the ecosystem is mapped and the most promising startups have been identified, it's important that you have the right tech behind you to ensure a smooth selection process. We've been doing this for years, so we know what works and what doesn't.
As hosting competitions and building up startup profiles is our core business, we decided to take matters into our own hands and create our own competition technology called Gribbio. Startups use the platform to create their own profile and keep up to date with the whole selection process. 
After using the software with Get in the Ring for 5 years extensively we've learned everything there is to know about competition technology. We've now opened up the software to our community. The software is an all-in-one competition management solution including application forms, landing pages, voting tools and jury software. Email erwin@gribbio.com if you want more information about how this software might help you.
4. Startups are the best promoters of themselves
When you're offering startups real opportunities, they will engage with you as much as possible. It's important for startups to receive feedback on what they do, to understand to what extent their idea can be accepted in the market and how it is welcomed by the community of users. In Get in the Ring events, the Live Battles are extremely interactive and the audience is activated to show their support for their favourite startup by using a blue or a red glow stick. We really didn't want to deprive startups of the adrenaline of seeing a sea of hands standing for them. So, even in these online competitions, we ask the general public to cast their vote for their favourite startup.
By promoting themselves to their local communities, startups can create conversations and rack up votes from their fans. During our first online competition in Boston, one startup took the initiative to place a pop up on their own website, asking visitors to vote for them. They saw a huge spike in votes.
5. Selection can be done online
There is no reason why the selection process can't be done online. We have now perfected the process and our recent online selection round is proof that it works. As in any other competition, you can't have a winner without a jury deliberation. A panel of innovation experts virtually evaluates the startups based on their profiles. The jury is taking the number of votes cast by the general public into account, together with their opinion as experts in the field. Not only is the winner of the online competition selected by an authoritative jury, but also gets exposure during the entire competition. They also win a full sponsorship to attend the Global Meetup and unlock business opportunities.
Ultimately, hosting an online competition is a perfect way to create connections between startups and industry experts. By engaging with the whole community, we can create a detailed overview of local ecosystems, which is an extremely useful tool for everyone involved. 
We believe that now more than ever, we need to be aware of the unconventional solutions being developed by startups. By providing them with a platform, we are able to fight 21st century challenges. 
Want to learn more on how we host these selection rounds online and how this might help you? Let us know via yana@unknowngroup.com