Get in the Ring is proud to partner with Shell, Rockstart, and Yes! Delft on the New Energy Challenge to find the most innovative solutions and disrupt the energy sector.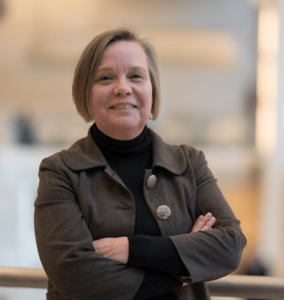 Working with a start-up isn't a sprint, it's a marathon, says Lene Hviid, General Manager Shell GameChanger.
"The New Energy Challenge is one of the programs that I'm involved in as part of my role at Shell that inspires me the most.
I know how lonely it can seem to be a start-up. All the choices that have to be made as young businesses, and all the challenges that have to be overcome. The New Energy Challenge can soften this for participants by bringing them together with not only experts who can help them further shape their ideas, but also with their peers in the start-up community who understand what they're going through as they work to validate their ideas and grow their businesses.
Last year was a real eye opener for me, seeing the teams from all those start-ups and scale-ups together during the finals. The dynamic of all these brilliant people together sharing their ideas and visions for the future was both powerful and insightful. They clearly wanted to learn from each other, and they really wanted to understand one another. It was exciting to see them emphatically embrace each other's ideas – and I'm very sure that they all found a lot of inspiration. Yes, it's lonely being a start-up, but those teams found each other and trusted each other enough to open up.
Trust plays an important role in the New Energy Challenge – not just among the teams themselves but also between the teams and us, the organizers. You see, for us to play our intended role with the start-ups, it's important that the start-ups trust us enough to accept constructive criticism. We want to be their champions. Our interest is to help them succeed or – as we sometimes say – fail as fast as possible. The more companies share, the more we can help. Success is built on a foundation of openness and trust.
At the end of the day, the teams' openness is one of the key metrics of success in the Challenge. If you, as a company, are unable to listen to your stakeholder and accept feedback, then it's tough to be successful.
There are a few more bits of advice I want to share with those who are considering applying to the Challenge: Don't assume a lot. Don't be afraid to ask for help. Don't expect everything to go perfectly – it's quite honestly a little strange if it always did. And don't be discouraged if it takes a while to get anywhere. We're in this for the long haul. Working with a start-up – or in a start-up – isn't a sprint. It's a marathon.
The New Energy Challenge is more than a contest. It's an opportunity to be part of a broader community of like-minded people who are taking one step at a time on a long journey to make a positive impact on the world."
Want to know more about the New Energy Challenge or sign up right away?  Just don't wait too long, you can register until May 22, 2020. Sign up here.