We shop online. It is easy, it is convenient, goods get delivered on the next day. But honestly, we are missing so much from the shopping experience. There is no personal contact, the cashier doesn't know your name nor your favorite type of cheese. And what is faster than an instant delivery or walking 5 mins and picking it up from the local store? NearSt brings back the good old days of local shopping with a bit of sugar, spice and everything nice!
NearSt was one of the finalists of Global final 15/16. Almost a year after, we meet with Nick Brackenbury, one of the masterminds behind NearSt to learn more on how local shopping can get its glory back.
REMIND US HOW IT WORKS
The number of online searches for products nearby is growing exponentially every year. Yet finding products locally is still really difficult and time-consuming. Search for a light bulb on your phone, and Google will provide links to DIY stores nearby, leaving you to call or visit each one to find out if they have what you want. In contrast, finding it online takes just a few taps of your phone. Local shops still stock most of the things people typically buy on the web, but they have neither the time nor skills to easily reach this growing mobile audience. NearSt's platform makes it even easier to get something locally than to buy it online. Search for a product on our site, see where it is stocked nearby, and in just a couple of taps order it for 1-hour delivery or instant collection in-store.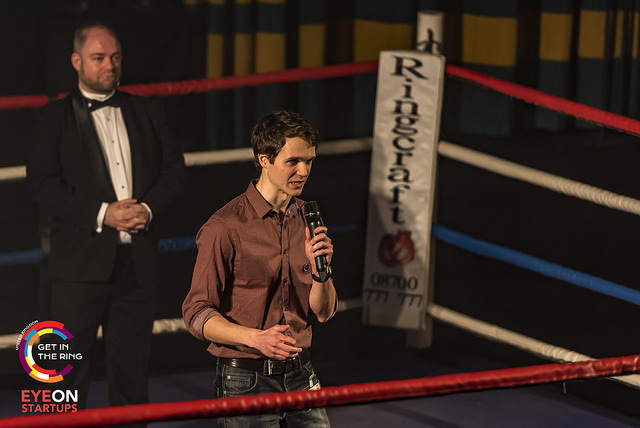 WHATS AHEAD
So much happened in 2016, it's hard to believe! Initially, NearSt began with an awesome community of bookshops, and in 2017 they'll be expanding to offer almost a  dozen new categories which consumers can shop from. Today you can already find more than half a million products in 7 verticals from different local stores. NearSt has also grown a lot store-wise! Their initial expectation of 300 stores for 2016 is now over 500! So it would be safe to say the startup had a great Christmas! Without any doubt, December was the greatest month for NearSt and now they are only spreading their success. Currently, they are operating in London but expect to launch in other cities in 2018.
WHAT WAS GET IN THE RING FOR YOU?
For Nick and his team Get in the Ring was a great way to get in contact with people who can advice them. Yet the competition gave them so much more.

"We liked that we had to battle in a ring – it was the core of it all. When people hear about it, they say 'oh that's amazing, that is really a lot of fun'.

CONNECTIONS
A startup is as valuable as the people who work for it. NearSt is currently looking for exceptional people who are passionate about their mission, in a range of roles from engineering to UX to design to business development. People excited about what they're doing can get in touch, just give us a sign and we'll put you through.
Tags:
nearst