This Wednesday, we had the 7th edition of Get in the Ring Netherlands. Out of more than 250 applications, 87 participated in the selection pitches and 6 got to battle on stage for glory, investment and a ticket for the Global Meetup. After 3 exciting battles, we have our new heroes: Oryx Movement, Warp Industries and Etergo.
The people responsible for choosing the winners were three influential investors. One of them was Neal Dempsey, the Managing General Partner of Bay Partners, which is one of the earliest Silicon Valley Venture Capital firms. Ilonka Jankovich, venture partner at Randstad Innovation Fund, and Wilbert Keunen, director of VenturesOne Europe, were also part of the champion jury.
The location chosen for the battles was the van Nelle Fabriek, listed in the Unesco World Heritage List. This factory was designed and built in the 1920s and is one of the icons of 20th-century industrial architecture. It embodies the new kind of factory that became a symbol of the modernist and functionalist culture of the inter-war period and bears witness to the long commercial and industrial history of the Netherlands in the field of importation and processing of food products from tropical countries, and their industrial processing for marketing in Europe.
Selection pitches
87 startups participated in the selection pitches. Before pitching in front of our jury members, they had a pitch training session with Keith Wallace, who has years of experience with pitching, setting up companies, bootstrapping, coaching, and pre-seed capital and financing.
16 jury members were in charge of deciding the 6 startups that would battle on stage. The board of juror was composed of experienced people, from various companies, such as EY, Rotterdam Partners, The Investors Club, KPN Ventures, and a lot more. Click here to see the whole list.
Battles
Oryx Movement and Zezame started off the battles. Oryx is a startup that created a method to quickly and easily detect the cause of physical complaints such as pain in the knee, hip or lower back. Their loop laboratory screens the way of moving during walking and other (sport-) specific movements. Zezame is a peer-to-peer VPN platform, that aims to provide everyone open, safe and private internet access, even when centralized VPNs get blocked or censored.
It was an exciting battle and the champion jury members asked pressing questions. After the deliberation, they went for Oryx's solution.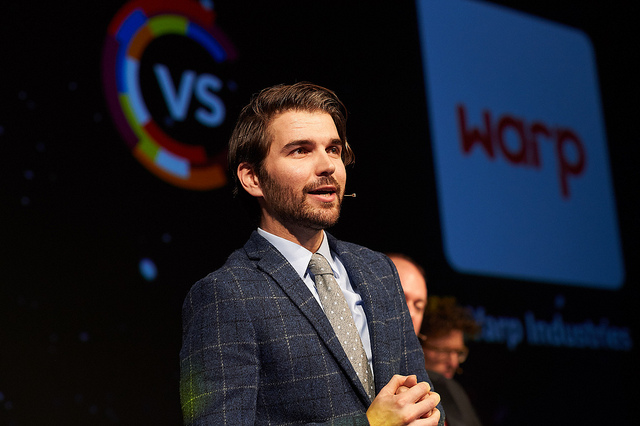 For the second battle, Appjection was up against Warp industries. It was a fierce battle, and both presented their innovation very well. Warp Industries wants to change the way people train and develop their employees by using virtual reality. They create, distribute and analyze real immersive training scenarios. And Appjection believes all individuals should fully utilize their legal rights. They want to provide quality legal assistance at scale appealing to wrongful traffic and parking fines. Ultimately, the judges decided to give Warp Industries the win.
But Appjection also came out a winner, they got an offer for an investment of 100k on stage and a ticket to the Global Meetup 2019.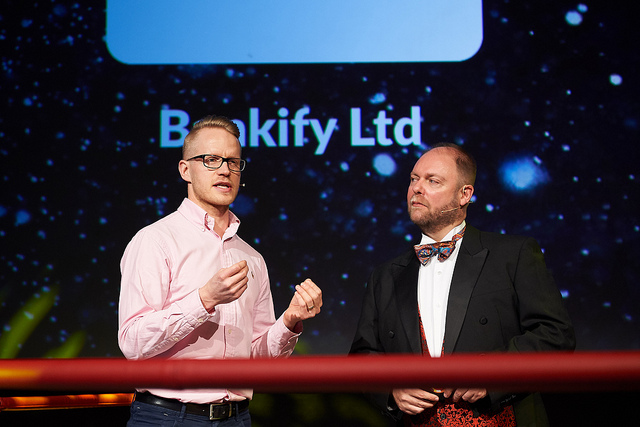 The final battle was between Etergo and Bankify. Bankify started off strong, explaining their solution. They provide a next-generation user experience to personal finance solutions. Their set of mobile application based microservices are tailored to the ever-evolving needs of the digital native younger segments. Etergo won over the champion jury with their technology. They have developed a fully electric scooter that can drive for 240km on a single charge and has apps on the cockpit. Marijn Flipse, the founder, explained that the idea is to make scooter riding a lot safer, since the number 1 cause of death is people using their phone while driving. Bankify was the ultimate winner.
Bankify and Super Seton also got offered an investment on stage of 250k.
Global Meetup 2019
Oryx Movement, Warp Industries and Bankify will be joining us for the Global Meetup 2019, which will take place in Berlin, from 17th – 19th of June. This event will bring together 150 selected startups from all over the world for a huge networking event. Investors, government officials, innovation professionals and several key players in the ecosystem will also be there. You can still apply for it. Click here.
Tags:
GM19