On the 17th of June, The NATO Pitch Day took place in a digital environment with partners hosting their online pitches, discussions and rooms in all the homes of the attendees. During this digital event, live jury panels were located in Rotterdam (The Netherlands) and Norfolk (US). Attendees also had the chance to engage directly with the startup participants via organized digital round-table sessions.
Thanks to the virtual space and platform that hosted the event, everybody had the chance to engage with the 10 finalists  about their solutions to aid first responders in pandemic situations, and to watch the live Award Ceremony.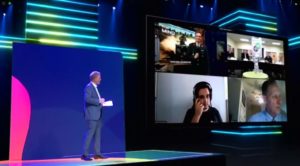 We congratulate Axual-Linkit and Verifeye  as winners of the challenge.  The winners have the opportunity to collaborate with NATO and the Dutch Ministry of Defence on future projects and missions.
Find out more about the NATO Innovation Challenge.